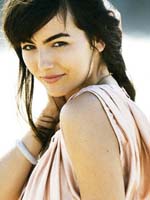 Camilla Belle is an American film actress of Brazilian descent. As a child, she starred in such films as A Little Princess and Jurassic Park 2. As an adult, she's known for her roles in movies such as historical fantasy 10,000 BC, sci-fi thriller Push, and horror film When a Stranger Calls. She also participates in charity work. Given her striking looks, she has been in a number of fashion campaigns, including modeling for Vera Wang and Miu Miu. Camilla aspires to be a classical pianist.
What the average fan doesn't know is that, within the fan community for a certain 1999 Playstation video game, Camilla is very well known for her striking resemblance to the game's main female lead. The video game is Final Fantasy VIII, and the character is Rinoa Heartilly. This is mostly due to their distinctively strong eyebrows and slightly droopy eyes. The similarities are more obvious in her movies than in pictures (where airbrushing eliminates some of Camilla's subtleties).
I chose to adopt this fanlisting because I like her distinctive beauty and maturity. Personality-wise, I like how she handles her personal life well, has pride in her mixed heritage, is frequently seen spending time with her mom, and behaves more responsibly than other starlets her age do. If she continues to act properly and takes the time to learn more about her craft, she has a bright future ahead.